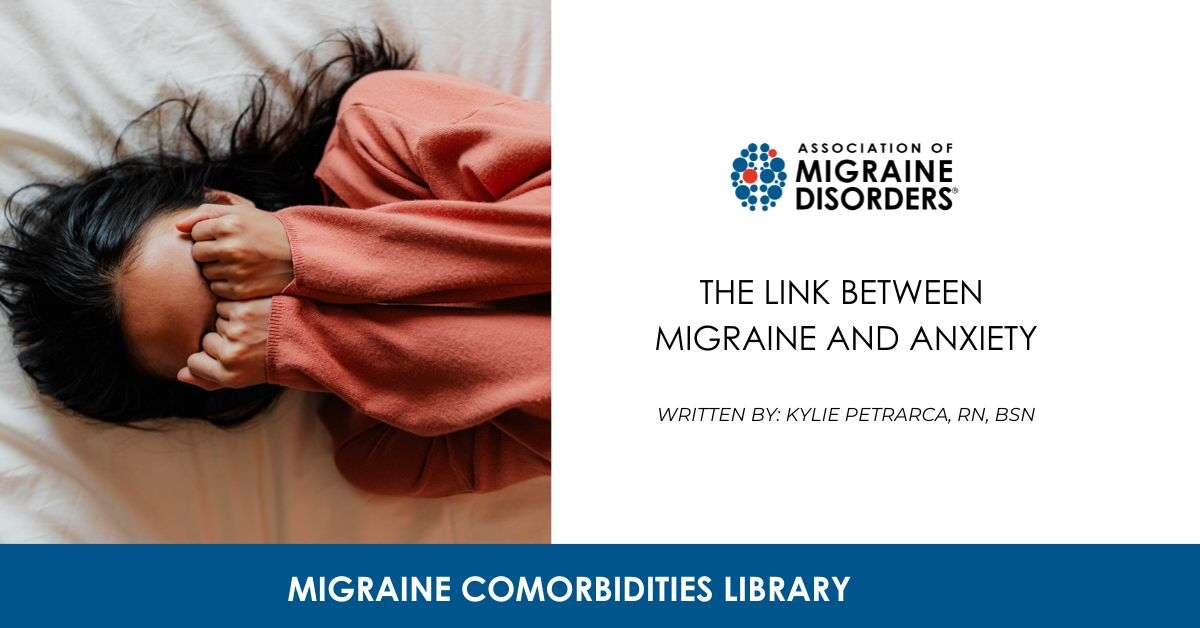 Published: November 28, 2022
|
The Link Between Migraine and Anxiety
Written by: Kylie Petrarca, RN, BSN
Medically Reviewed by: Vera Gibb, DNP, APRN, FNP-C, AQH, CCTP
Edited by: Melissa Calise
What is Generalized Anxiety Disorder?
Anxiety is a normal feeling of fear or worry during a stressful situation. Generalized Anxiety Disorder occurs when excessive anxiety or worry occurs on most days for six months or greater and interferes with daily life. Common symptoms include difficulty concentrating, problems sleeping, fatigue, restlessness, hypervigilance, repeatedly thinking about a thought, heart palpitations, unwanted thoughts and more. Symptoms often make school and social settings difficult.
How are Generalized Anxiety Disorder and Migraine Related? 
Migraine and anxiety share a bidirectional relationship, meaning anxiety increases the risk of migraine and vice versa. "More than half of the patients with migraine will meet the criteria for at least one anxiety disorder in their lifetime. Anxiety disorders are two to five times more prevalent in patients with migraine than in the general population, up to two times more common in patients with migraine than in patients with depression, and much more common in patients with CM than in patients with EM."1 Anxiety also increases the risk of transitioning from episodic (EM) to chronic migraine (CM) (chronification). 
Studies have found hormonal influences, genetics, serotonergic dysfunction, psychological factors and dysregulation of the hypothalamic-pituitary-adrenal axis (HPA axis) as possible connections between both diseases.
Dysregulation of the hypothalamic-pituitary-adrenal axis: "

This axis regulates stress, memory and emotions. Abnormal levels of stress hormones controlled by the HPA axis have been linked to migraines."

2

Studies have found alterations in the HPA axis among those with anxiety disorders as well.

3

 

Genetics: On the serotonin transporter gene, 5-HTTLPR, there has been a higher frequency of the s allele which is associated with anxiety and negative mood in healthy individuals.

1

 

Serotonergic dysfunction: Serotonin is considered the "happy" neurotransmitter. Low serotonin has been found to be a common trait among people with migraine as well as people with anxiety. Serotonin receptors exist on the trigeminal nerve and the cranial vessels.

4

 

Hormonal influences: Migraine and anxiety are more likely to occur in women. Estrogen helps produce serotonin and when not enough serotonin is being produced (ex. during the menstrual cycle) it can result in mood changes and/or anxiety. 

Stress: Increases the risk for developing anxiety and is a trigger for a migraine attack.

Psychological factors:

PTSD, emotional and physical abuse as well as a history of adverse childhood events are risk factors that can increase the likelihood of developing anxiety and migraine.

A history of a traumatic brain injury increases the risk of developing migraine as well as anxiety.

5,6
Medication Overuse Headache/Medication Adaptation Headache and Anxiety
Medication adaptation headache, previously known as medication-overuse headache (MOH), or rebound headache, is a headache disorder due to excessive reliance on acute medications to relieve recurrent headaches. This is a secondary type of headache that occurs on more than 15 days a month for 3 months or greater, but, unlike other forms of migraine, these recurrent headaches occur routinely as a pain reliever wears off. A study found that the probability of a person with MOH also living with comorbid anxiety is almost 39%, 17% for depression and having both conditions is 14%.7 
A person may experience anxiety or fear of pain escalation during the onset of a migraine attack leading a person to use more medications to attempt to abort the headache. In addition, benzodiazepines are commonly prescribed for anxiety and withdrawal of this medication can result in headaches. 
A person's headache may be related to their medications when nonprescription pain relievers such as NSAIDS are used 15 or more days a month for more than three months or when triptans, opioids and combination analgesics, such as acetaminophen, butalbital, and caffeine, are used 10 or more days a month for three months.
Treatments for Anxiety and Migraine 
Many people find that once their anxiety is properly treated, they have a reduction in migraine attacks. Anxiety is usually treated with anti-anxiety medications and/or antidepressants. Anxiety is commonly comorbid with depression and a person may be prescribed both antidepressants and anti-anxiety medications. Preventive treatments for migraine may include antidepressants, preferably tricyclic antidepressants or serotonin norepinephrine reuptake inhibitors (SNRIs).
The guidelines from the American Headache Society Consensus Statement 2021 recommends "A single drug for multiple conditions should be avoided if there is a risk of undertreating any single condition, as optimal treatment may require the use of separate classes of medication."8 For example, medications such as antidepressants are generally used at lower doses for migraine compared to depression and at a lower dose, it may not be as effective for depression. 
Add-on therapies or alternative treatment options for migraine and anxiety include cognitive behavioral therapy, biofeedback, mindfulness and acceptance and commitment therapy (ACT). 
On average, those who have migraine and anxiety or depression have significantly higher medical costs than people with migraine alone. A study found that adults with migraine had medical costs of $5,590 whereas people diagnosed with migraine and anxiety or depression had twice as high medical costs and people with migraine, depression and anxiety had medical costs of $13,442.9
What Type of Doctor Should I See for Migraine and Anxiety? 
A clinician with a headache specialty is preferred to treat migraine and other headache disorders. For anxiety, a psychiatrist and psychologist are most useful for diagnosing and treating this condition. A primary care provider may also be involved to help manage these conditions. Health care providers should utilize an interdisciplinary approach to treating migraine and anxiety.
A Note to Patients and Providers
Although migraine and anxiety are more likely to occur in females, it is important to note that anyone can develop both of these conditions regardless of age or gender. People living with migraine should be screened for comorbid anxiety and depression. The patient should inform the provider if they are showing signs and symptoms of anxiety and/or depression. Clinicians who treat migraine patients who also have anxiety should ask their patients the number of days per month they are using specific medications to screen for medication adaptation headache. Treating the underlying anxiety and/or depression and avoiding medication overuse headache can greatly reduce the risk of transitioning from episodic to chronic migraine (also known as chronification) and improve quality of life.
Allied Partner
Thank you to our sponsor!
Resources 
References
Minen MT, Begasse De Dhaem O, Kroon Van Diest A, et al. Migraine and its psychiatric comorbidities. Journal of Neurology, Neurosurgery & Psychiatry 2016;87:741-749.

Faravelli C, Lo Sauro C, Godini L, Lelli L, Benni L, Pietrini F, Lazzeretti L, Talamba GA, Fioravanti G, Ricca V. Childhood stressful events, HPA axis and anxiety disorders. World J Psychiatry. 2012 Feb 22;2(1):13-25. doi: 10.5498/wjp.v2.i1.13. PMID: 24175164; PMCID: PMC3782172.

Aggarwal M, Puri V, Puri S. Serotonin and CGRP in migraine. Ann Neurosci. 2012 Apr;19(2):88-94. doi: 10.5214/ans.0972.7531.12190210. PMID: 25205974; PMCID: PMC4117050.

https://americanheadachesociety.org/news/posttraumatic-headaches-persist-five-years-after-traumatic-brain-injury/

Lampl, C., Thomas, H., Tassorelli, C. et al. Headache, depression and anxiety: associations in the Eurolight project. J Headache Pain 17, 59 (2016). https://doi.org/10.1186/s10194-016-0649-2

Ailani, J, Burch, RC, Robbins, MS; the Board of Directors of the American Headache Society. The American Headache Society Consensus Statement: Update on integrating new migraine treatments into clinical practice. Headache. 2021; 61: 1021– 1039.

https://doi.org/10.1111/head.14153

Pesa, J. and Lage, M.J. (2004), The Medical Costs of Migraine and Comorbid Anxiety and Depression. Headache: The Journal of Head and Face Pain, 44: 562-570.

https://doi.org/10.1111/j.1526-4610.2004.446004.x
---
*The contents of this blog are intended for general informational purposes only and do not constitute professional medical advice, diagnosis, or treatment. Always seek the advice of a physician or other qualified health provider with any questions you may have regarding a medical condition. The writer does not recommend or endorse any specific course of treatment, products, procedures, opinions, or other information that may be mentioned. Reliance on any information provided by this content is solely at your own risk.
Read More Like This Article
Written by: Kylie Petrarca, RN, BSN Medically Reviewed by: Dr. Thomas Abell Edited by: Leigh Serth What is Gastroparesis? Gastro = stomach paresis = partial paralysis/weakness...
Written by: Kylie Petrarca RN, BSN Medically reviewed by: Dr. Alexander Postalin Edited by: Melissa Calise and Leigh Serth What is Patent Foramen Ovale?  The foramen...
Written by: Kylie Petrarca, RN, BSN Medically Reviewed by: Vera Gibb, DNP, APRN, FNP-C, AQH, CCTP Edited by: Melissa Calise What is Generalized Anxiety Disorder? Anxiety...