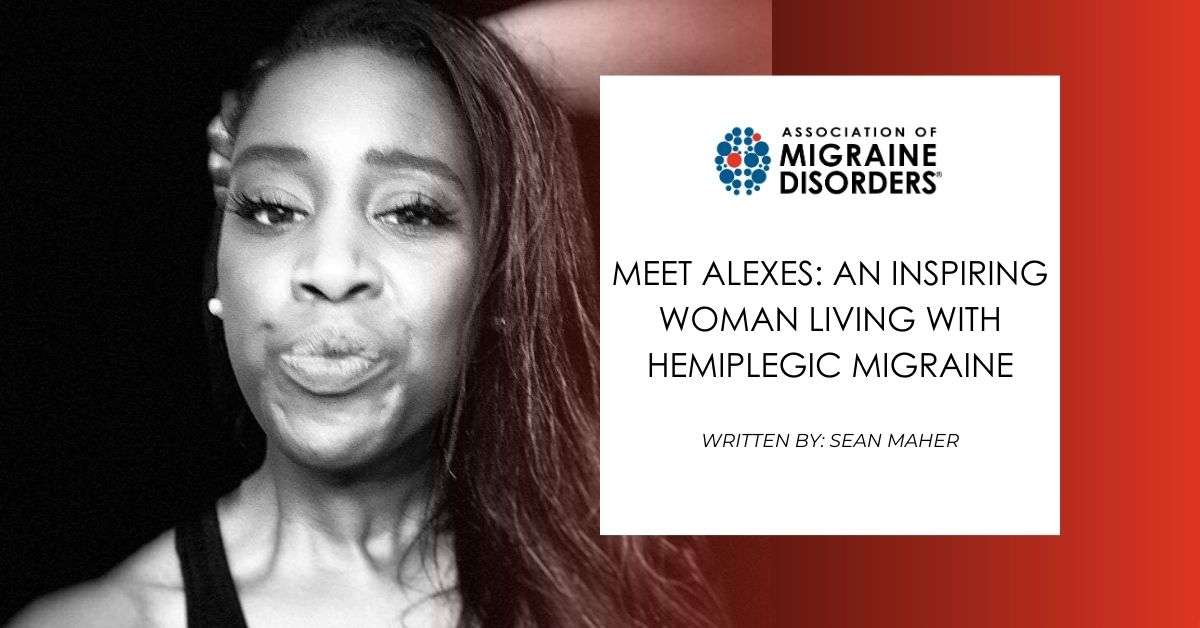 Published: December 21, 2020
|
Meet Alexes: An Inspiring Woman Living With Hemiplegic Migraine
Meet Alexes
M
y name is Alexes and I live with migraine disease.  Every day I learn something new about myself and thankfully my short-term memory fails me because that allows a newness and zest for life that may not be possible otherwise.  I have an appreciation for the small details and when my brain is moving in slow-motion there is a beauty in imperfections that mirror how I feel about my life today.  I am super talkative, the annoying like 'please shut-up' talkative.  However, I am incredibly shy and so often my speech hides that I am truly uncomfortable.  In the past I had the opportunity to perform my poetry and that was fulfilling and a few years ago I took to the stage again, this time to perform comedy.  The spontaneity and freedom of thought my words have in those moments, that is me, and there are no rules, and it is amazing because I owe no one anything!
I worked fifteen years on the non-clinical side of healthcare and saw patients leave appointments with answers and hope with doctors who worked diligently to diagnose, develop a treatment plan, and provide care.  It has been shocking that my experience is not that. Initially, that caused me great confusion. As I continue to hit brick walls, it causes frustration. I did not know that my black body was not important to our healthcare system and that any doctor could decide to refuse treatment, care, and disrespect my body. The physical and verbal treatment by medical professionals has been appalling and it continues to be an exhaustive effort for me to navigate the healthcare system.
Migraine: Not Just a Headache
My experience is both interesting and complicated. I live with rare debilitating types of migraine.  The presentation of symptoms impacts my daily life. I am a recovering perfectionist, there was an attention to detail and speed in completing tasks that has lapsed.  Deceit, exhaustion, uncertainty, isolation, frustration -this is my new lineup.  Reading a book or talking, my words are jumbled.  Migraineurs understand our brain and body's infatuation with routine.  I miss the spontaneity I had for myself.  That last-minute detour or errand run is not simple.  Essentially, I pack an emergency kit just to walk out the door! I have my non-perishable migraine and allergy-friendly snacks, sunglasses, migraine glasses, umbrella, baseball cap, ear plugs, medications, electrolytes and plain water.  Basically, my life with migraine is more like I am a fussy baby and a pissed off teething toddler all in one and sprinkle vertigo on top, I am a handful.
The most devastating blow is the loss of those fine motor skills, insufferable pain in my head and body, aphasia and being coherent but not able to express my needs or help others to help me during the migraine attacks. My biggest loss was Alexes, the Alexes from before, the grief process…oh how I wish someone would have prepared me for that.
With all the holistic treatments and lifestyle changes, a team of specialists and to think it is all due to migraine is mind-blowing.  After many hospital stays, I did half-day therapy for months for physical/occupational/speech therapies and my treatment was the same for those that have survived a stroke… that entire experience of transitioning from the use of a walker to a cane.  You have treatments that may work but our healthcare system cannot agree. There went the oxygen therapy that was helpful, goodbye chiropractor and those adjustments, acupuncture, dry needling and massage.  There are great non-prescription complementary therapies, but who will pay for them?  Migraine disease has been burdensome, unapologetic, torture, unreal. I have met some awesome fighters that understand the world I am describing at this moment who put their health at risk daily to bring attention and resources because the stigma is so real. I am not believed because I am young and a woman, and because my black body is judged and deemed unimportant in the medical field. I am left to share ideas within the migraine community and use my time to find new doctors which is signing up to be re-traumatized all over again, every exam, every appointment, every phone call, every trip to the pharmacy.
Since 2018, when I became chronic daily intractable status migrainosus, it became this self-isolation.
People see you in a wheelchair, using a walker or a cane and cannot believe that is migraine. I recall using my walker and I was stared at as people watched to see how I would get through the door.  Migraine is still an unnecessary inconvenience and there are so many workarounds I have in place to get some semblance of a routine.  Migraine continues to cost me EVERYTHING! That is a lot to take in and then to not be believed by doctors is overwhelming.  My doctor's goal is not to break the migraine, the goal for a year now has been to simply to decrease the pain levels.  This is my same migraine from two years ago and counting!  Imagine, there are people with the same migraine for longer?
The losses are immeasurable at this point.  Migraine has taught me who is really in my corner. This disease is not the faint-hearted, because it steals everything and you cannot complain because no one would believe you anyway. Our healthcare system is at an impasse. The dollars spent on this disease are a mirror to me and the migraine community that shows us where the priority is and unfortunately, it is not currently with migraine.
Hopes for the Future
I hope more attention on migraine will lead to an increase in specialists that are qualified and willing to treat migraine patients. I also hope for an expansion of treatment options and earlier diagnosis for people with migraine. From a patient perspective, I can honestly say, to be diagnosed is not enough but without it, there is no care or treatment.  I would ask the National Institutes of Health (NIH) and everyone working in the healthcare field, what would it cost you to start believing patients?
Life Without Migraine
Working for a future where no one is defeated by migraine disease…
Donate to migraine research today.
[give_form id="27072″ show_title="true" show_goal="true" show_content="none" display_style="onpage"]