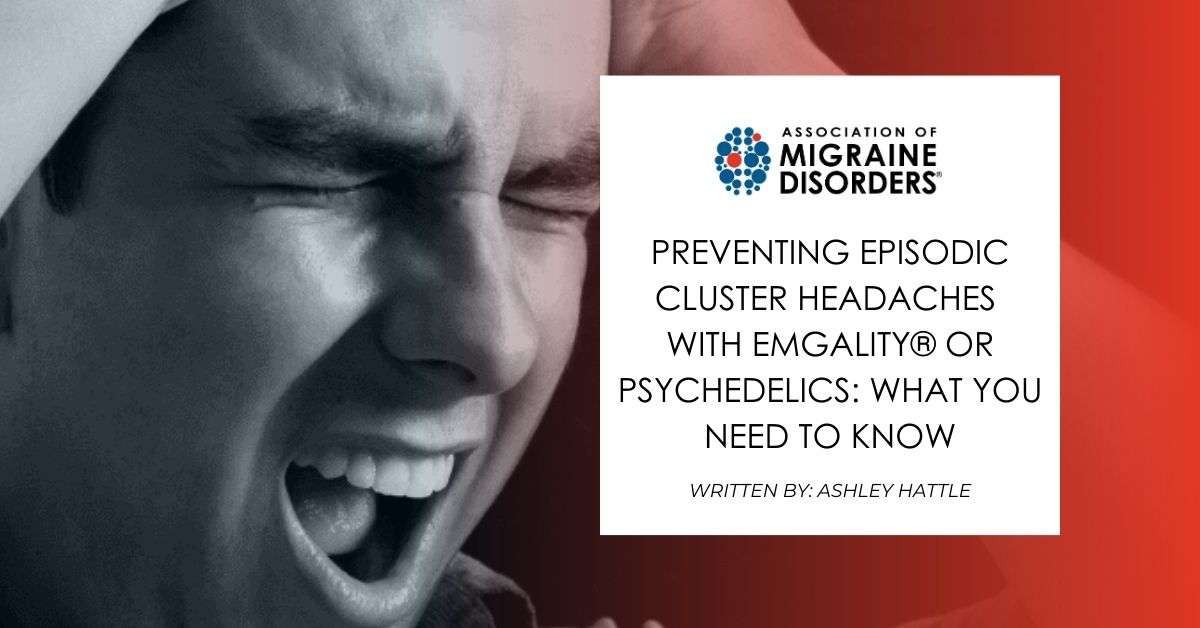 Published: March 18, 2021
|
Preventing Episodic Cluster Headaches with Emgality® or Psychedelics: What You Need to Know
Preventing Episodic Cluster Headaches with Emgality® or Psychedelics: What You Need to Know
Preventive treatments for cluster headaches are often hit or miss. For decades, people with cluster have used hand-me-down treatments such as calcium channel blockers, corticosteroids, anticonvulsants, and antipsychotics.7 These medications don't have a great track record for being effective and they're well known for adverse side effects in patients.
Thanks to research, two preventive treatments are proving to be more useful for episodic cluster headaches than previous options: the FDA-approved Emgality® (galcanezumab-gnlm) injections and psychedelic compounds, namely psilocybin mushrooms and LSD. People with chronic cluster headaches have also found significant relief with psychedelics, allowing some to revert to the episodic form.9 
How Emgality® Prevents Episodic Cluster Headaches
Emgality® is one of several monthly preventive medications designed to work on Calcitonin gene-related peptide (CGRP) receptors for headache disorders. CGRP plays a pivotal part during a cluster headache attack. CGRP causes vasodilation and is released from neurons in the trigeminal nerve.1 That activates the autonomic symptoms associated with cluster headaches (one-sided tearing eye, stuffy/running nose, eyelid swelling, etc.). 
Emgality® works by stopping CGRP receptor activation and distorting the peptides, making it more difficult for CGRP to meet the receptor.2 Though there are several types of CGRP medications on the market, this is the only one FDA-approved to treat episodic cluster headaches. It involves three 100mg injections taken one after the other once a month. Clinical trials found that Emgality® cut the number of attacks per week in half for 71% of patients by the third week. Episodic patients don't need to take Emgality® year-round, but instead, can take it at the start of a cluster headache cycle and continue until the cycle ends.3  
There are a few possible side effects with Emgality®, such as injection site reactions and allergic reactions, including trouble breathing, hives, rash, and itching.3 These are common potential side effects with most injectable medications. 
"I've been taking Emgality® for 8 months," says Danny Frailey, episodic cluster patient. "It has dropped the pain level of my attacks to a 7-8 on the pain level (most of the time). My only problem is that it seems to wear off after 2 weeks and my attacks gradually increased until my next dose. For me, it is not a 'Miracle Drug,' but it's better than all the other pharmaceutical drugs I've taken to combat cluster headaches. And it has very little side effects."
The Research Behind Preventing Cluster Headaches with Psychedelics 
The discovery of psychedelic compounds as a treatment for cluster headaches was an accident. In the late 1990s, a man in Scotland missed his next episodic cycle, and the only change he made in his lifestyle during that time was taking a recreational dose of Lysergic Acid Diethylamide (LSD). He posted about his discovery on an online forum for migraine disease. Other cluster headache patients began experimenting with psilocybe cubensis (or magic mushrooms) when they couldn't gain access to LSD. This revelation spawned the creation of a nonprofit organization, Clusterbusters, and has led to multiple clinical trials and research into the efficacy of these naturally occurring tryptamines.6
Harvard Publishes Results on LSD and Psilocybin for Cluster Headaches in 2006 
With many patients studying the impact of these psychedelics on cluster headaches themselves, the Founder of Clusterbusters, Robert Wold, approached Harvard University about a clinical trial. The study involved 53 patients with cluster headaches. Results were published in the June 2006 edition of Neurology9: 
Harvard Psilocybin Results: 
Out of 26 patients who used psilocybin to stop cluster headaches, 22 reported it aborted acute attacks. 

Out of 28 patients using psilocybin as a preventive or prophylactic, 25 reported going into remission, or that their cycles "terminated." 

Out of 19 patients using psilocybin between cycles, 18 reported a longer remission period. 
Harvard LSD Results: 
Of the 8 patients using LSD as a preventive or prophylactic, 7 reported going into remission. 

Of the 5 patients using LSD between cycles, 4 reported a longer remission period. 
The cluster headache patients in the study who were chronic experienced remission periods ranging from 24 hours to eight months, changing their classification to episodic. Of the 52 participants who used psilocybin, 42% achieved significant results with sub-hallucinogenic doses equated to brighter colors and mildly altered state of consciousness.9
The dosages and time frame of taking psilocybin mushrooms varied, but many involved in the Harvard study followed a Clusterbusters protocol of discontinuing all preventive and abortive medications for five days. After those five days, they drank mushroom tea or ate the mushrooms in one of two ways: 
0.5g in three doses throughout the day, repeating the dosages five days later (with higher dosages if ineffective)

1.0-1.5g taken at once, repeated every five days until cluster headaches discontinued (some participants consumed lower dosages if they were apprehensive about the treatment while others ate or drank more)
The 2006 publication is believed to be the first description of psychedelics to treat cluster headaches in scientific literature. However, it's not the first time LSD was evaluated for headache disorders. A 1963 study of 390 headache patients (25 of whom had cluster headaches) found that sub-hallucinogenic doses of LSD could successfully prevent migraine attacks.9 
Hannover Medical School in Germany Publishes Results on BOL-148 in 2011
The next set of research on psychedelics and cluster headaches took place at Hannover Medical School in Germany. The purpose was to see if the "trip" or hallucinogenic effect was necessary to treat cluster headaches. Researchers administered the substance 2-Bromo-LSD, an ergot-based non-hallucinogen, to four subjects with active cluster headaches, which were resistant to traditional treatments. These patients were given 30ug/kg of BOL-148 once every five days for three treatments. The results were published in 20115: 
3 of the patients reported near or full remission of cluster headaches for a minimum of 2 months after the final dosage of BOL-148.

The last patient reported a 30% pain reduction for 2 months and 73% fewer attacks for 4 months. 

Researchers found that the compound BOL-148 could be an effective, non-hallucinogenic treatment for cluster headaches and that it warrants more research. 
The patent for BOL-148 has since changed hands, but further study may be coming soon. 
Yale University Studying Effect of Single Dosage Psilocybin Mushrooms in Cluster Headache 
There is an ongoing clinical trial at Yale University on the impact of a single dose of psilocybin mushrooms on cluster headache patients. If the study is successful, they will research the effect of repeated "busting" with psilocybin mushrooms and the long-term management of cluster headaches. 
"There's no direct evidence, but it can be hypothesized that psychedelics affect the systems involved with circadian biology and endocrine and autonomic function, systems that are pathologic in cluster headache," says Dr. Emmanuelle Schindler, Neurologist from Yale School of Medicine. 
Hope for Patients in Preventing Cluster Headaches 
The last two decades have produced promising results for preventing cluster headaches. Emgality® made history in 2019 when it became the first drug to gain FDA-approval for Episodic Cluster Headache. Both episodic and chronic patients have hope on the horizon with the psychedelic research into psilocybin mushrooms and LSD. We don't have to rely on medications and treatments developed for other conditions any longer. 
"I hope that research will provide more insight into how psychedelics are able to have such effective clinical results after limited exposure to the drug," says Dr. Schindler. "This new method of treatment can really revolutionize how we approach disease management."
---
References: 
Belin, A. C., Ran, C., & Edvinsson, L. (2020). Calcitonin Gene-Related Peptide (CGRP) and Cluster Headache.

Brain Sciences,

10

(1), 30. doi:10.3390/brainsci10010030

Editorial Team. (2018, October 14). How Are CGRP Drugs Similar and Different? Retrieved September 10, 2020, from https://migraine.com/clinical/cgrp-similar-different/

Eli Lilly & Co. (n.d.). Episodic Cluster Headache Treatment: Emgality® (galcanezumab-gnlm). Retrieved August 21, 2020, from https://www.emgality.com/cluster

Frailey, D. (2020, March 1). Relief from Emgality® [Online interview].

Halpern, J., MD, Karst, M., MD, PhD, Passie, T., MD, PhD, & Huertas, P., MD, PhD. (2011). Attack cessation and remission induction with 2-bromo-LSD for cluster headache.

Cephalalgia,

29

, 46-46.

Kavulich, M. (2019, August 9). Trying 70 Different Treatments for Cluster Headache. Retrieved November 02, 2020, from https://migraine.com/living-migraine/cluster-headache-treatment-options/

Robbins, M. S., Starling, A. J., Pringsheim, T. M., Becker, W. J., & Schwedt, T. J. (2016). Treatment of Cluster Headache: The American Headache Society Evidence-Based Guidelines.

Headache: The Journal of Head and Face Pain,

56

(7), 1093-1106. doi:10.1111/head.12866

Schindler, E., MD, PhD. (2020, August 17). Psychedelic Research and Cluster Headaches [E-mail interview].

Sewell, R. A., Halpern, J. H., & Pope, H. G. (2006). Response of cluster headache to psilocybin and LSD. Neurology, 66(12), 1920-1922. doi:10.1212/01.wnl.0000219761.05466.43
MEET THE AUTHOR
---
Ashley S. Hattle has experienced episodic cluster headaches since 2007 and is a medical writer based in Southwest Michigan. She's the award-winning author of 
Cluster Headaches: A Guide to Surviving One of the Most Painful Conditions Known to Man. 
Hattle is a passionate advocate for those living with cluster headache and other neurological disorders. Her episodic cluster headaches took over her life every six months for up to three months at a time, taking her away from school, work, friends, and family. After years of struggling to live with the condition, Hattle found Clusterbusters, a nonprofit dedicated to helping cluster headache patients, where she met her husband, who has chronic cluster headaches.
Hattle has given presentations at many conferences, including the American Headache Society Symposium, Mississippi Headache Symposium, Association of Migraine Disorders Symposium, and the Headache Cooperative of New England Annual Meeting. She has written for many publications online and in print on various topics, specializing in medical content.