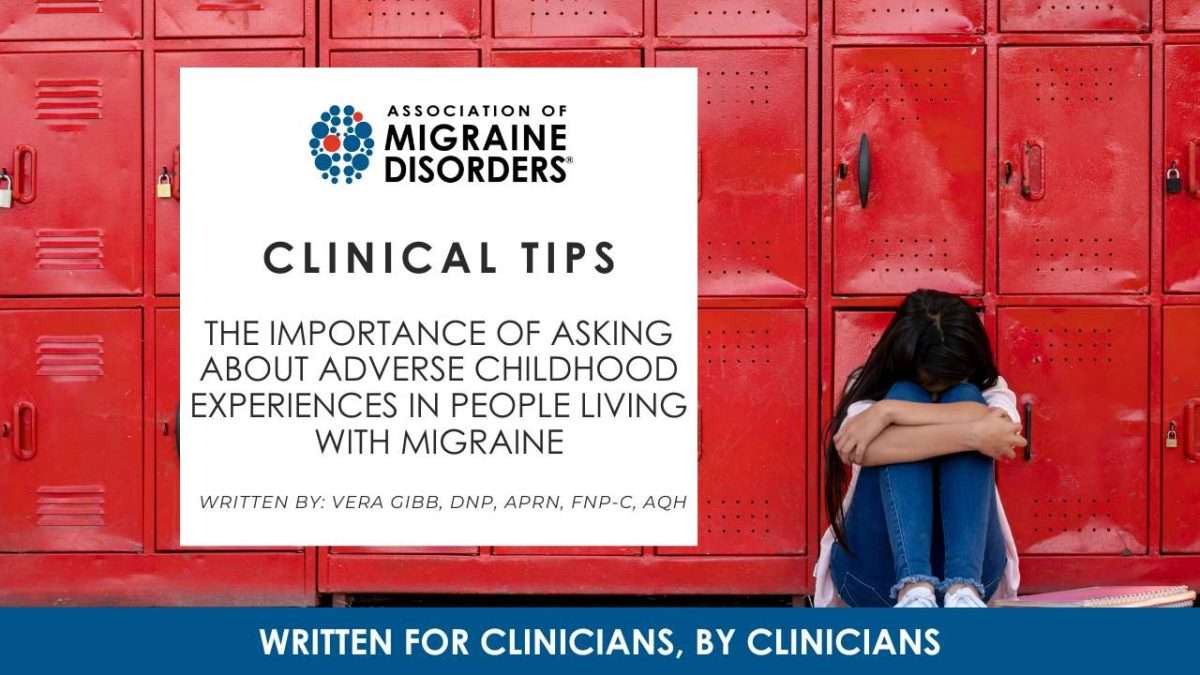 Published: April 12, 2023
|
The Importance of Asking About Adverse Childhood Experiences in People Living With Migraine
Migraine is a chronic neuroinflammatory disorder that occurs across the lifespan with episodic exacerbations and age-dependent changes in clinical presentations/prevalence.1 Early life stress and adverse childhood events (ACEs) are associated with migraine, especially chronic and transformed migraine.2 Anxiety and mood disorders are the most relevant psychiatric migraine comorbidities.3
Migraine and Childhood Maltreatment Statistics
A study surveyed 1,348 people with migraine and found that 58% of respondents reported a history of childhood maltreatment. The respondents were mostly female, 88% women, 40% had a diagnosis of migraine with aura and 34% or about 1 in 3 people suffered from chronic headache (15 or more headache days per month).4,5
The prevalence of childhood maltreatment types were:4,5 
Emotional abuse: 38%

Physical abuse: 21%

Sexual abuse: 25%

Emotional neglect: 38%

Physical neglect: 22%

All 3 categories of childhood abuse: (physical, sexual, and emotional) 9% 

Physical and emotional neglec:t 17%

Overlap between different types of maltreatment: 40% to 81%.
Case Study
AA is a professional female in her mid 50's with a history of GERD, chronic neck pain and chronic migraine without aura accompanied by nausea, vomiting, sensitivity to light, and neck pain for 39 years. Her migraine started as episodic when she was 12 and progressed to chronic in adulthood. Family history is negative for migraine. She is divorced and has children at home. She holds a graduate degree. 
Summary of Prior Care
AA was under the care of her primary care provider, neurologists, pain management specialist, and headache specialist for several decades. All of her diagnostic imaging tests were negative. AA denied any hospitalizations for migraine. At the time of her first appointment, AA was on galcanezumab (Emgality) 120 mg SQ injection once a month, onabotulinumtoxinA (Botox) IM injections every 3 months, and oral magnesium 600 mg daily for prevention of migraine. With preventive therapy she still has weekly migraine attacks, triggered by weather changes. To abort an acute migraine attack, AA takes oral rizatriptan (Maxalt) 10 mg, ubrogepant (Ubrelvy) 50 mg, and acetaminophen (Tylenol) 500 mg. 
In the past, AA tried the following abortive therapies without any success: sumatriptan, diclofenac potassium, ibuprofen, sodium naproxen, tramadol, cyclobenzaprine as well as the following preventive therapies without any success: amitriptyline, bupropion hydrochloride, propranolol, divalproex sodium, topiramate. She also used electrical stimulation devices which she found to be uncomfortable.
Follow-up
She started rimegepant (Nurtec) ODT 75 mg disintegrating tablet for acute treatment of migraine. AA returned in 2 weeks to discuss the effectiveness of treatment and reported that rimegepant (Nurtec) worked faster than other abortives but was not as effective. Her complicated "mix and match" not very successful multi-drug management plan of treatment led to the discussion of the possible underlying non-physical causes of migraine. The alternative treatment options discussed included level A evidence cognitive-behavioral therapy to discover underlying emotional issues. 
AA admitted to a history of adverse childhood events (emotional and physical neglect as a result of being a war refugee and living in poverty, and sexual abuse). She is an adult survivor of a severe motor vehicle accident (MVA) when she was thrown out of the car. Seeking professional counseling from a trauma-informed therapist was recommended. AA returned to discuss the effectiveness of treatment in 4 weeks. She reported no migraine attacks since the last visit. She did not take any abortive medications. AA reported that her neck pain significantly improved since she did not have any attacks in the last month. AA did not participate in any formal counseling but started reading evidence-based literature on the adverse childhood events (ACEs) and their association with migraine. AA stated that having the conversation about adverse childhood events (ACEs) had changed the way she feels about herself and her migraine disease process. AA also admitted that she would have never had enough courage to initiate a conversation about her sexual trauma history with a male neurologist. 
Follow up in 8 weeks was recommended but AA did not come for a follow up. When she returned for a follow up in 6 months, she started venlafaxine (Effexor) and reported no migraine attacks while she was taking venlafaxine (Effexor) for several months. She followed up again in 6 months and reported trying counseling, changing jobs, discontinuing all her preventive medications except for Botox, and occasionally using rizatriptan for acute migraine attacks 1-2 times a month. She also reported on overall significant improvement in her overall health, quality of life, and more positive outlook on life. 
Evidence
Peres et al. analyzed how anxiety and depression are related to migraine through a symptom-based approach and suggested that excess worry, fear, and other anxiety symptoms can be a part of the migraine clinical spectrum.3 Anxiety and its symptoms were found to increase migraine risk more than depression while physical symptoms of depression were linked to migraine more than emotional symptoms.3 Catastrophizing is common with migraine and is related to migraine severity and comorbid anxiety and depression.6 Untreated or undertreated anxiety and depression often contribute to more frequent migraine attacks. However, many patients are unaware about the association of adverse childhood events (ACEs) and migraine or they may be too timid or uncomfortable to talk to their provider. Some patients may try to suppress the negative memories of their childhood and avoid discussing them. They also may be reluctant to seek formal therapy.
Grazzi et. al recommends multidisciplinary chronic migraine treatment to decrease migraine days and medication use.7 Open discussion of possible underlying emotional causes of chronic poorly controlled migraine was initiated with AA taking into account all available evidence. Professional counseling was recommended for AA to better understand non-physical causes contributing to her migraine and promote more effective disease management. 
Migraine is a multifactorial disease and there are many different approaches to treatment of migraine. Trying a new approach and working with a qualified trauma-informed therapist can change the course of the disease for a patient with a history of early life stress and adverse childhood events (ACEs) who is willing to proceed with treatment. Not every patient may have the positive outcomes like AA, but every patient can access the following free resources to test the waters for themselves.
Final Note
We do not get to choose our parents, families, early life circumstances, and exposure to adverse childhood events. But as adults we have a choice to work on the underlying emotional issues and triggers. 
Resources
https://americanheadachesociety.org/wp-content/uploads/2020/09/AHS-Fact-Sheet_AbuseChildhoodMaltreatmentandMigraine.pdf

https://americanheadachesociety.org/wp-content/uploads/2020/09/AHS-Fact-Sheet_Childhood-Maltreatment-and-Migraine.pdf
References 
---
Author
Vera Gibb, DNP, APRN, FNP-C, AQH, CCTP is a family nurse practitioner and an Assistant Professor, Graduate Studies Department, School of Nursing of The University of Texas Medical Branch (UTMB) at Galveston. She holds additional certifications in headache medicine and clinical trauma. She graduated from the UTMB in April 2022 with her DNP. Her doctorate quality improvement project was focused on migraine preventive management in primary care. Her article titled "Managing Migraine in Primary Care: 5 Things to know" was published by Medscape as a part of Editorial Collaboration with The American Headache Society the same month. Vera Gibb serves on the Advisory Board of The First Contact – Headache in Primary Care Program of the American Headache Society and is a Co-Chair of its APP education Task Force. She also serves on the Board of Directors of Coalition for Headache and Migraine Patients (CHAMP) and an active member of The National Headache Foundation and ClusterBusters. Vera Gibb was a participant in 2021, 2022, and 2023 Headache on the Hill (HOH), annual advocacy event in Washington DC, organized by the Alliance for Headache Disorders Advocacy (AHDA).