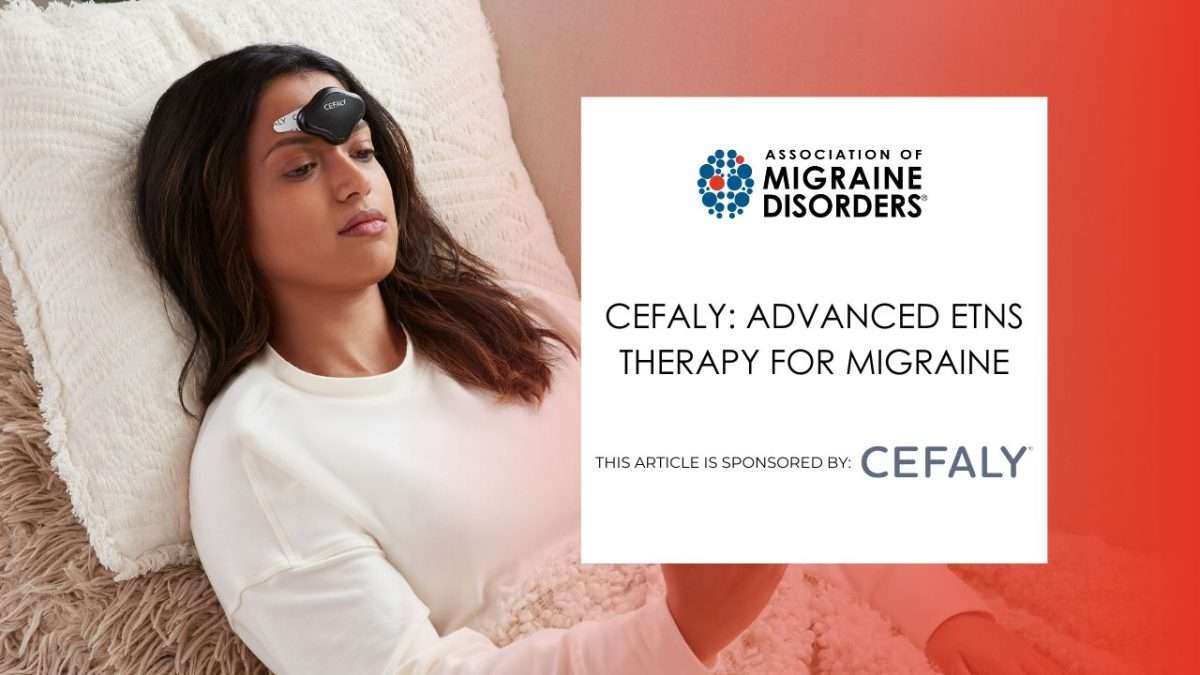 Published: October 31, 2023
|
CEFALY: Advanced eTNS Therapy for Migraine
This article is sponsored by CEFALY.
People who live with migraine often wish for one simple thing: a way to relieve the pain and prevent attacks without the often-serious side effects of medication.
That's what CEFALY does. A small device worn on the forehead, CEFALY treats and prevents migraine via external trigeminal nerve stimulation (eTNS).
Since the first CEFALY device was launched in Europe in 2008, it has treated more than 2 billion migraine attacks. In the United States, CEFALY was the first FDA-cleared migraine treatment and prevention device and remains the only one available without a prescription.
Curious about CEFALY? Here's what you need to know about how it works, what it feels like, and what the studies show about its effectiveness.
What is CEFALY?
CEFALY is an FDA-cleared medical device that uses external trigeminal nerve stimulation (eTNS) technology. While triggers and causes of migraine vary, the trigeminal nerve is involved in attacks for almost all people with migraine. The trigeminal nerve is the largest cranial nerve, with three branches that control sensation in the face. CEFALY targets this nerve with a precise electrical impulse, stimulating and desensitizing it over time.
To begin a CEFALY session, a user first washes and dries their forehead and then applies a gel electrode. Once CEFALY is connected to the electrode, press the button once for the 60-minute ACUTE program, which should be used at the earliest sign of a migraine attack to stop or relieve pain. Press the button twice, with a brief pause between presses, for the 20-minute PREVENT program, which reduces the frequency of migraine attacks. For best results, the PREVENT treatment should be used daily.
The latest CEFALY device, CEFALY Connected, is the first to feature Bluetooth connectivity. CEFALY Connected syncs with the CeCe Migraine Management app, allowing users to optimize their treatments and better understand their migraine patterns by tracking them on their phone.
What Does CEFALY Feel Like?
The sensation of external trigeminal nerve stimulation may feel unfamiliar at first, like a gentle tingling or vibrating. Long-term users say it feels soothing and relaxing, like getting a head massage.
CEFALY puts the user in control:
The stimulation intensity slowly increases over the first 14 minutes of a session.
When the user feels a gentle tingling, prickling, or vibrating sensation, like when their leg is falling asleep, that means they're at or approaching their sweet spot.
The "sweet spot" is the stimulation level that's noticeable, comfortable, and effective for each individual user.
When the user reaches a point where the treatment is both comfortable and noticeable and they don't want to go higher, they press the device button one time. The intensity will stabilize at the selected level.
Who Should Use CEFALY?
CEFALY is indicated to be used for the:
Acute treatment of migraine with or without aura in people 18 years of age or older.
Preventative treatment of migraine with or without aura in people 18 years of age or older.
In general, CEFALY is ideal for people with migraine who are seeking clinically proven alternatives to pharmaceuticals. It's for people who prefer not to take medication, who don't respond well to medication, or who can't tolerate pharmaceutical migraine treatment options.
CEFALY can also be part of an existing migraine treatment regimen. If someone is trying to reduce their medication intake, or if they simply want a drug-free alternative, CEFALY is a powerful addition to a migraine toolkit.
What Sets CEFALY Apart From Other Migraine Treatments?
CEFALY targets the trigeminal nerve, the primary pathway for migraine pain.
No prescription is needed to buy CEFALY.
CEFALY is designed for long-term use. Once you buy the device, it's yours; you don't need to pay for ongoing access. The only recurring cost is replacing gel electrodes as they wear out.
No serious adverse side effects have been reported in any CEFALY study. The most common side effect of CEFALY is forehead tingling or discomfort (paresthesia).
CEFALY features simple, single-button operation that doesn't require an app. If users wish, they can pair CEFALY Connected with the CeCe app to track their migraine treatments and reveal their migraine patterns and evolutions over time.
Results From CEFALY's Clinical Studies
The TEAM (Trial of e-TNS for the Acute treatment of Migraine) study was the largest sham-controlled clinical trial examining the use of any eTNS therapy for the treatment of migraine.¹
This study found that after two hours of ACUTE treatment:
69.5% of people experienced pain relief compared to 55.2% of people using the sham device.¹
56.4% of people reported freedom from their most bothersome symptom compared to 42.3% of people using the sham device.¹
42.5% of people reported the absence of all migraine symptoms compared to 34.1% of people using the sham device.¹
In the Acute Migraine Therapy with External Trigeminal Neurostimulation (ACME) study, patients saw a reduction in migraine pain intensity following a 60-minute ACUTE treatment session with CEFALY.² This was a double-blind, randomized, sham-controlled study conducted across multiple headache centers in the U.S.
Following one hour of treatment with CEFALY:
On average, people experienced a 59% reduction in migraine pain intensity at 1 hour compared to a 30% reduction with the sham device. This relief continued up to 24 hours.²
79% of people reported at least 30% pain relief at 1 hour compared to 39% of people using the sham device.²
29% of people reported pain freedom at 1 hour compared to 6% of people using the sham device.²
With compliant use of CEFALY's 20-minute PREVENT treatment, patients experienced a significant reduction in the number of migraine days, the Migraine Prevention with a Supraorbital Transcutaneous Stimulator (PREMICE) study found.³
38.1% of CEFALY users saw at least a 50% reduction in the number of migraine days compared to 12.1% of people using the sham device.³
30% (mean 2.06) reduction in migraine days in the CEFALY group, compared to a 5% decrease in migraine days in people using the sham device.³
Learn More About CEFALY
References
*The contents of this blog are intended for general informational purposes only and do not constitute professional medical advice, diagnosis, or treatment. Always seek the advice of a physician or other qualified health provider with any questions you may have regarding a medical condition. The writer does not recommend or endorse any specific course of treatment, products, procedures, opinions, or other information that may be mentioned. Reliance on any information provided by this content is solely at your own risk.